Cambridge Forums
Connecting industry leaders on global and domestic topics
A forum is an unparalleled learning opportunity for preeminent leaders in their field. Each invitation-only, discussion-based event connects those at the peak of their profession on global and domestic topics.
Cambridge Forums create and host specialized meetings where only the most accomplished legal advisors and senior executives are invited to share their experiences and learn from each other. Since 2004, Cambridge has hosted more than 300 forums across Asia, Europe, and North America.
Cambridge Forums and the Executive Agency team identified the need for a streamlined approach to members registration and accommodation as well as a unique experience while a forum is taking place. Based on a deep understanding of their audience with findings from user journeys and auditing their previous site, we delivered a close-knit package of forum microsites, a robust dashboard, and discussion boards along with the new website. Every aspect of all deliverables including movement and transitions have been considered carefully to contribute to the overall experience.
Responsive UI System
To create a consistent and cohesive experience across the Dashboard and Discussion Forums, a unique system was designed based on elements, components and modules that are completely interchangeable
The Dashboard
The Dashboard is the place for attendees to organize and prepare for their upcoming forums. From here, they can request accommodations, view forums they've previously attended and access materials for reading. Notifications help them stay up-to-date everywhere they go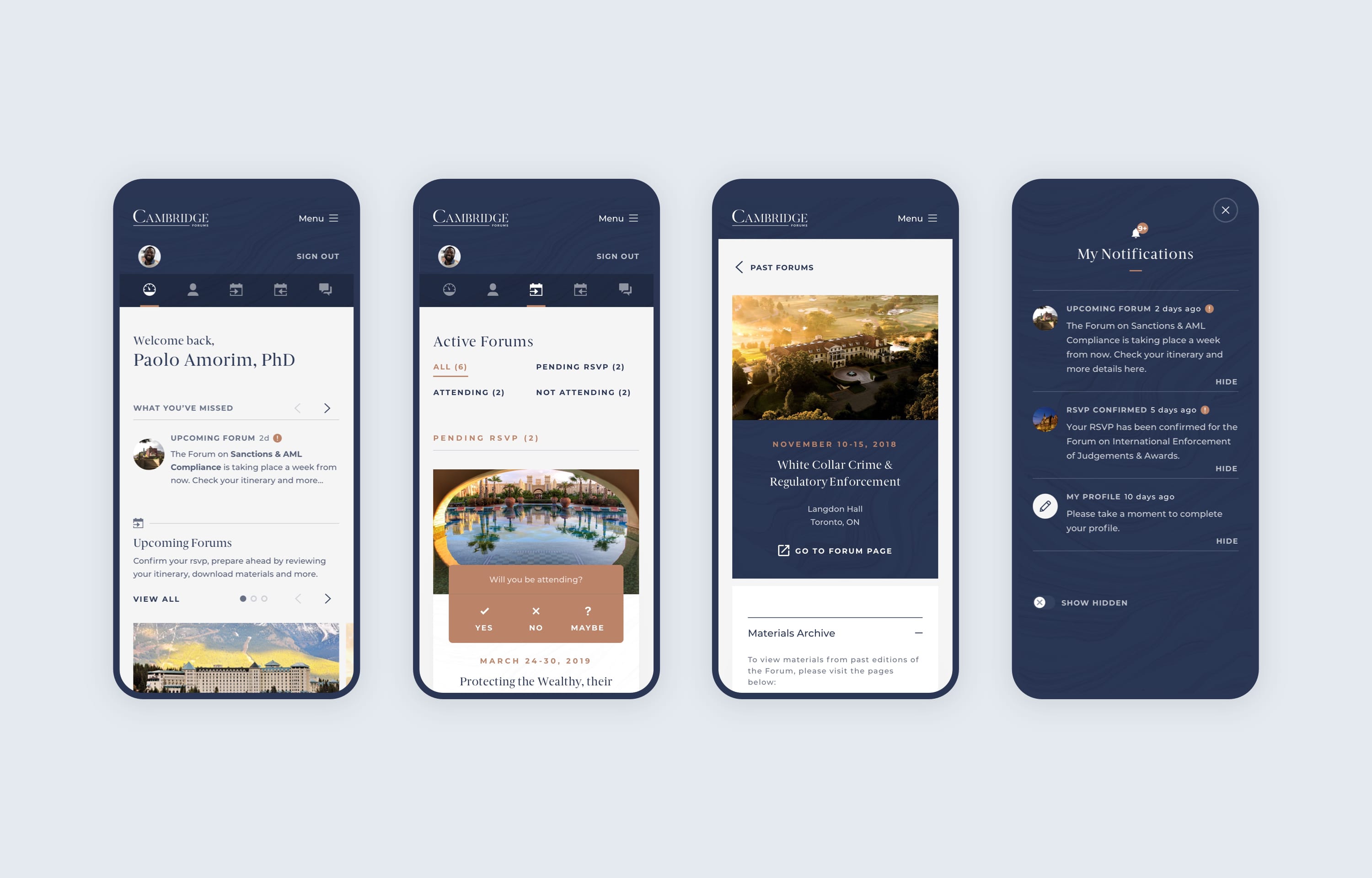 Discussion Boards
Once the forum is in process, users are able to access the discussion boards to stay in touch with other members, discuss ideas, and exchange business opportunities
Responsive Experience
The newly designed platform is a companion to members from the moment they show interest to after a forum has ended. Building a system that is lean, easily accessible, and works across all devices was crucial to the overall experience